Take a look at this 'KQBBN vs kqrbnnp' chess problem generated autonomously by the prototype computer program, Chesthetica, using the approach known as the DSNS from the sub-field of AI, computational creativity. There is also no proven limit to the quantity or type of legal compositions that can be automatically generated. The largest (Lomonosov) tablebase today is for 7 pieces which contains over 500 trillion positions. With each additional piece, the number of possible positions increases exponentially. It is therefore impossible that this problem with 12 pieces could have been taken from such a database. The analysis presented for this study may not be perfect as it depends on the engine used and time allocated to it. However, the key move should be right.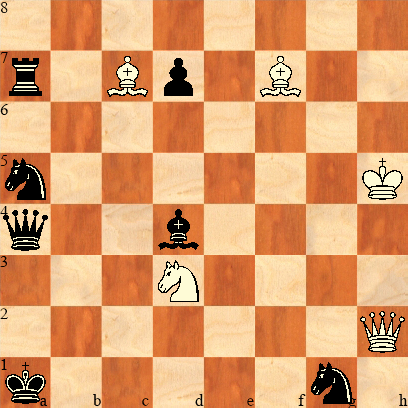 8/r1Bp1B2/8/n6K/q2b4/3N4/7Q/k5n1 w – – 0 1
White to Play and Win
Chesthetica v11.62 (Selangor, Malaysia)
Generated on 23 Feb 2020 at 9:18:24 PM
If you notice any version of Chesthetica 'skipped' from one problem to the next, that simply means additional (minor) changes were made to the program before it was set to run again. Everything composed by Chesthetica is original. Do share and try out some of the others too. Collectively, these puzzles are intended to cater to players of all levels.
Solution