Now, here we have a 'KRNN vs kpp' #5 chess puzzle created by a computer using the DSNS computational creativity approach which doesn't use any kind of traditional AI. Chesthetica has the creative ability to compose positions that may otherwise take centuries to arise in an actual game, if ever. You can learn about how these constructs are selected here.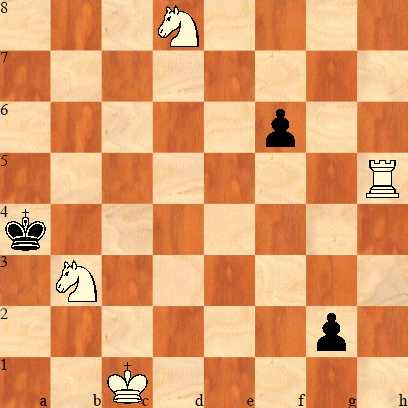 3N4/8/5p2/7R/k7/1N6/6p1/2K5 w – – 0 1
White to Play and Mate in 5
Chesthetica v11.17 (Selangor, Malaysia)
Generated on 23 Apr 2019 at 4:04:37 PM
Solvability Estimate = Easy
Chess puzzles are ancient. Some are over a thousand years old but only in the 21st century have computers been able to compose original ones on their own like humans can. White is over a rook's worth in material but the precise win in this position still needs to be found. Do you think you could have composed something better with these pieces? Share in the comments and let us know how long it took you. Solving chess puzzles like this is probably good for your health as it keeps your brain active. Nobody wants something like early-onset Alzheimer's.
Similar Problems by Chesthetica: 00499 02032 02335
Main Line of the Solution (Skip to 0:35)