A new if not unique KQR vs krn #3 chess puzzle or problem (whichever you wish to call it) composed by a computer program, Chesthetica, using the 'Digital Synaptic Neural Substrate' computational creativity approach which does not use any kind of deep learning.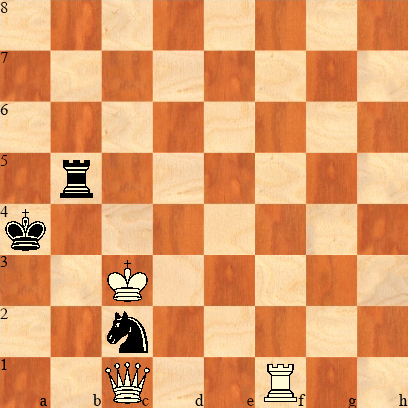 8/8/8/1r6/k7/2K5/2n5/2Q2R2 w – – 0 1
White to Play and Mate in 3
Chesthetica v10.82 : Selangor, Malaysia
2018.12.17 4:13:27 PM
Solvability Estimate = Difficult
If you notice an earlier version of Chesthetica listed with a newer problem, that simply means an earlier version may have been running on a different computer or OS user account. White is over a rook's worth in material but the precise win in this position still needs to be found. Did you find this one interesting or have something else to say? Leave a comment below! Note that not all the chess problems are like this. They cover quite the spectrum of solving ability and there are thousands published already.
Main Line of the Solution (Skip to 0:35)