Now, this is a 'KRRBNNP vs krrbnnp' chess puzzle created by the prototype computer program, Chesthetica, using the Digital Synaptic Neural Substrate AI computational creativity method. Chesthetica can compose problems that might otherwise take centuries or longer for human composers to think of, so you may enjoy them right now. Depending on the type and complexity of the problem desired, a single instance of Chesthetica running on a desktop computer can probably generate anywhere between one and ten problems per hour. This position contains a total of 14 pieces. The largest endgame tablebase in existence today is for 7 pieces (containing over 500 trillion positions anyway) which means the problem could not have been taken from it regardless.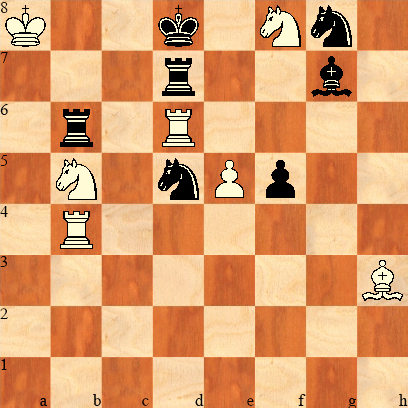 K2k1Nn1/3r2b1/1r1R4/1N1nPp2/1R6/7B/8/8 w – f6 0 1
White to Play and Mate in 3
Chesthetica v10.98 (Selangor, Malaysia)
Generated on 3 Feb 2019 at 8:49:02 PM
Solvability Estimate = Difficult
A seemingly earlier version of Chesthetica on a problem composed later (based on the date and time stamp) simply means that version may have been running on a different computer or operating system user account. Get a glimpse into the 'mind' of a computer composer. Did you find this one interesting or have something else to say? Leave a comment below! Collectively, these puzzles are intended to cater to players of all levels.
Main Line of the Solution (Skip to 0:35)