A 'KRBBNP vs krbpp' mate in 3 chess problem generated autonomously by a computer using the 'DSNS' computational creativity approach which does not use any kind of machine or deep learning. Chesthetica is able to use the technology to express original creative thought in this domain. It also never had behind it a team of highly skilled programmers, consultants or the kind of hardware millions of IBM or Google dollars could buy. There is no known limit to the quantity or type of compositions that can be generated. The position below contains 11 pieces which means it simply could not have been derived even from an existing endgame tablebase which is presently limited to 7 pieces.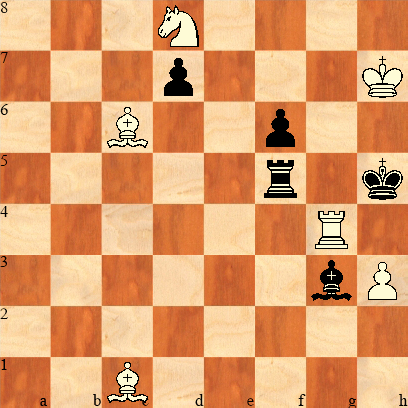 3N4/3p3K/2B2p2/5r1k/6R1/6bP/8/2B5 w – – 0 1
White to Play and Mate in 3
Chesthetica v11.32 (Selangor, Malaysia)
Generated on 13 Aug 2019 at 2:57:33 PM
Solvability Estimate = Difficult
Chess puzzles are ancient. Some are over a thousand years old but only in the 21st century have computers been able to compose original ones on their own like humans can. Chesthetica composes everything autonomously (no human intervention) and even chooses the main line of the solution to show you. Try to solve this as quickly as you can. If you like it, please share with others. Collectively, these puzzles are intended to cater to players of all levels.
A Similar Problem by Chesthetica: 01357
Solution
Facebook | Instagram | Twitter | Books | Website