A newly published and original KQRNP vs kqrr three-move chess construct composed autonomously by Chesthetica using the relatively new computational creativity approach called the 'DSNS'. You can learn more about the DSNS here. The position below contains 9 pieces which means it simply could not have been derived even from an existing endgame tablebase which is presently limited to 7 pieces.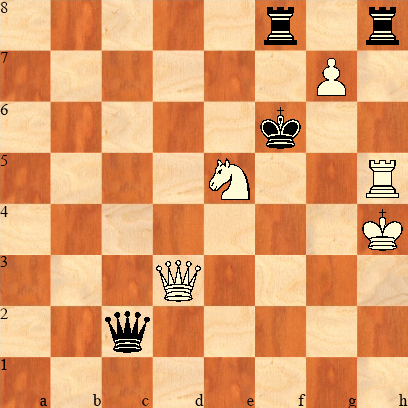 5r1r/6P1/5k2/4N2R/7K/3Q4/2q5/8 w – – 0 1
White to Play and Mate in 3
Chesthetica v11.85 (Selangor, Malaysia)
Generated on 10 Aug 2020 at 4:04:51 AM
Solvability Estimate = Difficult
Humans have been composing original chess problems for over a thousand years. Now a computer can do it too. Everything composed by Chesthetica is original. Do you think you could have composed something better with these pieces? Share in the comments and let us know how long it took you. Collectively, these puzzles are intended to cater to players of all levels.
Solution