Here is a new 'KNNPPPP vs kbnnnpp' chess problem generated autonomously by Chesthetica using the approach known as the DSNS from the sub-field of AI, computational creativity. Chesthetica is able to generate mates in 3, mates in 4, mates in 5, study-like constructs and also compose problems using specific combinations of pieces fed into it (e.g. composing something original using only three pawns vs. a knight). Read more about it on ChessBase. The largest endgame tablebase in existence today is for 7 pieces (Lomonosov) which contains over 500 trillion positions, most of which have not been seen by human eyes. This problem with 14 pieces goes even beyond that and was therefore composed without any such help.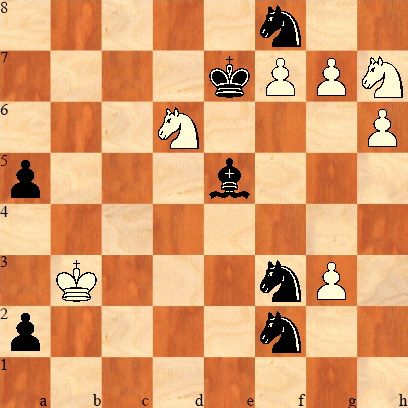 5n2/4kPPN/3N3P/p3b3/8/1K3nP1/p4n2/8 w – – 0 1
White to Play and Mate in 5
Chesthetica v10.82 : Selangor, Malaysia
2018.12.31 3:10:19 PM
Solvability Estimate = Easy
What was the machine 'thinking' when it came up with this? Try to solve this as quickly as you can. If you like it, please share with your friends. Note that not all the chess problems are like this. They cover quite the spectrum of solving ability and there are thousands published already. Anyway, if standard chess isn't your thing, you might instead like SSCC.
Main Line of the Solution (Skip to 0:35)